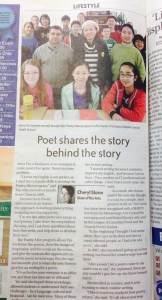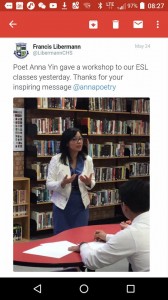 (Anna Yin is an award-winning poet, Mississauga's Inaugural Poet Laureate and the representative for Ontario for the League of Canadian Poets (2013-2017).  She has six poetry books and her poems in English & Chinese and ten translations by her were in a Canadian Studies textbook used by Humber College. She was a finalist for Canada's Top 25 Canadian Immigrants Award in 2011/2012. CBC Radio,  Rogers TV and China Daily interviewed her about her poetry. Her poems were in ARC Poetry, New York Times, China Daily, CBC Radio, World Journal etc.
Contact anna.yin@gmail to book the workshop and apply for Poets in Schools.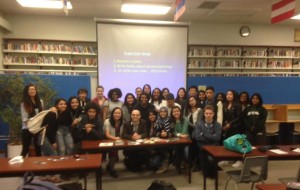 Poetry Alive is designed to be fun, educational and appropriate for all ages.  Through different types of poetry (haiku, concrete poems, free verse, sonnets, found poetry etc) reflecting daily life and connecting with the Natural world, Anna discusses how words, thoughts and images work together to enrich our experience of life. By combining computer arts and live audience participation, Anna helps those involved explore the world of imagination through words. Each time Anna adjusts her program to fit the needs of different audiences with various writing exercises, games or entertainment.
 The above is a 2 minute video introduction to Anna Yin's Poetry Alive workshops.
TBD:
2022 Feb 4,  Poetry Alive at Francis Libermann school (Toronto, virtual class)
2022 March, Poets workshop at the Corpus Christi School (Mississauga, virtual class)
April 1, 2021: Haiku workshop at Bowmore Road Jr & Sr  (Toronto, virtual class visit)
April 26 2021: Haiku workshop at Mother Teresa Catholic School (Albert, virtual class visit)
May 7, 2021 :  Poetry Alive at Francis Libermann school (Toronto, virtual class visit)
Mar 20 2021: Online  Poetry Alive writing/editing workshops at East West Learning Club
Mar 6 2021: Online Haiku workshops at East West Learning Club
Feb 3, 2021: Haiku workshop at Bowmore Road Jr & Sr  (Toronto, virtual class visit)
2020 Nov 6,  Poetry Alive at Francis Libermann school (Toronto, virtual class visit)
–due to Covid-19, schools closed, but made the above online poetry alive workshops to share with them…
2020 April 30, Poetry workshop at  St Augustine SS (Mississauga)
2020 April 21, Poets workshop at the Corpus Christi School (Mississauga, revisit )
2020, April 2, Poetry workshop  at Francis Libermann school (Toronto, revisiting)
2019, Nov 15 poetry workshop at Lighthouse Learning & Development Centre (Aurora) 2019,March 29, Poetry Alive workshop at St. Francis Xavier Secondary School (Mississauga) 2019, March 21/22, Poetry Alive workshop at 
Corpus Christi School
(Mississauga) 2019, Feb 26: Poetry Reading at St. Jude's Academy IB World School 2018, Nov 13: Poetry workshop
  at Francis Libermann schoo
l (Toronto) 2018, May:  Haiku/photo games at Port Credit Senior Living Home 2018, April 09, Haiku/photo games for Brave One Night at Point Click Care 2018, May 11: Poetry workshop 
 at Francis Libermann schoo
l (Toronto) 2018, Mar 30: Haiku Workshop for  EAWLC (Toronto) 2017  June 19, Poetry Alive and
Passage Canada
Presentation at Lisgar Middle School (Mississauga) 2017 May 23: 
Poetry Alive workshop
 at Francis Libermann School (Toronto) May 5, 
Poetry Alive workshop
(Poets in Schools) at St. John XXIII Catholic School, Mississauga May 2, Poetry Alive workshop (Poets in Schools) at Our Lady of Mount Carmel Secondary School. May 1: 
Poetry Alive workshop
(Poets in Schools) at Deway College April 30, Poetry Alive workshop at 
HSK (Toronto)
April 27, 
Poetry Alive workshop
(Poets in Schools) at St. Francis Xavier Secondary School April 24, 
Poetry Alive workshop
 at St. Joan of Arc C.S.S.   April 6,  Haiku class visit at Mississauga Valley Library Mar 3/6, 2017:
Poetry Alive at Dolpin Public School
(Mississauga) Feb 26,  2017: Poetry Alive workshop for
Leadership club at CPAC
Feb 2, 2017:
Poetry Alive at Agincourt Collegiate Institute
(Toronto) Jan 19, 2017: 
Haiku workshop at city hall in Mississauga for MFA
Nov 12, 2016: 
Haiku workshop at central library in Mississauga
Oct 29, 2016: 
Haiku workshop at central library in Ottawa
Oct 13/14, 2016: 
Haiku workshops at Lambton College
in Sarnia, Ontario  Oct 6, 2016:  National Poetry Day UK/haiku workshop/write for Thanksgiving with MAC Sept 15, 2016:
 Poets in Schools at St. Joan of Arc Catholic Secondary School
(Mississauga) May 20, 2016:
Poets in Schools at Francis Libermann schoo
l (Toronto) May 2, 2016:  Poetry Alive for  Rebel Week at Central Library May 3/4, 2016  
Poets in Schools
at Dewey College March 30/31, 2016: 
Poetry Alive (Poets in Schools) at Dolphin Senior School
Jan 28, 2016:
Poetry Alive (Poets in Schools)
at Agincourt Collegiate Institute Jan 17, 2016:
tea Poetic for Girl Guides at Mississauga Guiding Center
Oct 28, 2015: Poetry Alive
Presentation at HangZhou Normal University
 in China April 9-12, 2015:Poetry Alive  at t
he 2015 Austin International Poetry Festival
Feb 3, 2015: Poetry Alive at Francis Libermann school for
Poets in Schools program
((thanks for inviting me back) Feb 12, 2015: Poetry Alive at Dolphin Senior PS (Mississauga) for
Poets in Schools program
April 29, 2014 Poetry Alive at
 Francis Libermann school for Poets in Schools program
 (thanks for inviting me back)
April 5, 2014 Guest Speaker at 
Ink Movement
April 5, 2014
 Poetry Tour at Markham Public Library 
2013 Aug 31:
Poetry Alive event
at Churchill Meadows Library in Mississauga 2013 April:
Poetry Alive event for Francis Libermann High School, in Scarborough
2013 Jan:
Haiku workshop in as Poets in Schools
(in Dovercourt Public School)
2012: Mississauga's National Poetry Month event
/ Milton Acorn poetry events
Videos for 2012 Mississauga's National Poetry Month Reading
(Churchill Meadows Branch of Mississauga Library) 2010, Culture Days: Poetry Alive event ( Churchill Meadows Branch of Mississauga Library) 2011, April (National Poetry Month) 
Poetry Alive event for high schools
(St Joan of Arc High School) 2011 July 16 at Victoria Ztraine Career Development Center (Mississauga) 2011 July 30:
Poetry Alive-Inspiration from Raymond Souster
(in
Marmora Al PurdyFest
) 2011 Oct 2:
Culture Days (Mississauga Central Lirary)

2011 Nov 3 Humber College Lakeshore Campus