Grade Levels: 4 – 12   Fees: Standard (half day for $ 200, league will pay half; a whole day for $ 300, league will pay half)
Classroom Approach:(Ontario)
For elementary children:
I

will select various interesting poems which reflect our daily life and connect to Nature. Through introducing several types of poetry (haiku, concrete poem and other short poetry forms), I will display how words, thoughts and images are connected and developed.   It is a fun and enlightening event which will explore the world of imagination and build a joyful experience in words.   The presentation is flexible and followed by question and answer or writing exercises.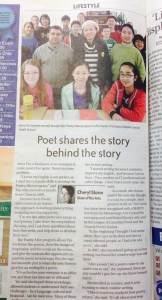 Here is comments from Mr. Chris Vanellis at Dolphin Senior Public School.
Here are some samples as Poets In Schools program at Dovercourt Public School (Toronto) for a quick glimpse…

For secondary students: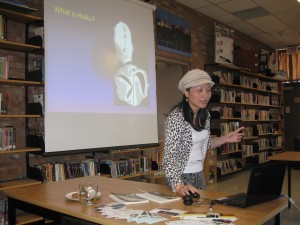 I will select more advanced haiku, free verse and other poems by myself and other poets which focus on relationships, nature beauty, history and the events of our daily lives too. I will show them that how a simple scene can be developed into a profound poem through editing and thinking about it from different angles.  I can also adapt my Poetry Alive event to focus on the poets you prefer and share how I am inspirited by them.  As I did at the poetry presentation for Raymond Souster at Al PurdyFest, I linked western and Asian cultural traditions to broaden the audience's understanding and spark their interests.
Poetry workshop from Anna Yin's visit to Francis Libermann High School for Poets In Schools and their feedback
At all my Poetry Alive events, students are welcome to choose any poems from my books and I will share the writing process and story behind each one with them.
Some wonderful links for poetry study:
If you are interested in this, please email:

[email protected]

.  Thanks.