POET VISITS DURING NATIONAL POETRY MONTH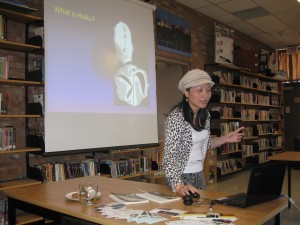 On April 15, award winning poet Anna Yin visited the school library as part of National Poetry Month celebrations. Anna read some of her haiku and concrete poems which were accompanied by the photographs that inspired them. Her multimedia presentation gave students the story behind the poems and provided insight into the writing process.
On a personal note, Anna shared her poet journey with the grade ten English and grade twelve Writer's Craft students. Anna did not give up on her writing despite many challenges, and told the audience that her love of poetry has helped her experience more joy from life and made her appreciate small details. Thank you, Anna, for making poetry come alive at Libermann!
(Thanks Caroline to invite me and arrange this event!  Thanks students and teachers to have me there and discuss about my poems  -Anna Yin)