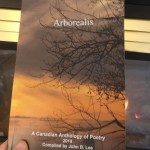 Glad to have two of my new poems: Abalone and A Borrowed Story in this Canadian Anthology of Poetry 2018. Thanks for the book editors and judge.
Glad to know that my poems: "Pears" and "Dragon Fruit"will be published in 2019 46# issue of Voice & Verse Poetry Magazine.
生命瓶罐(Life Jar) will be recited at a Chines poetry festival in Toronto to celebrate Chines New Year.
My new Chinese poem: "Spring Festival" (春节) will be published online for Chinese poetry groups.