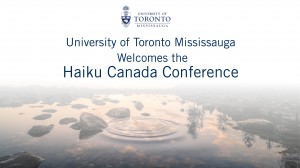 The 2017 Haiku Canada Weekend was successfully held at UTM (University of Toronto, Mississauga campus) May 19-21, 2017. More than 50 haiku poets from across Canada attended this event; there were also poets from Japan and the USA. Most of them have been writing haiku for 20 years or more and many of them have become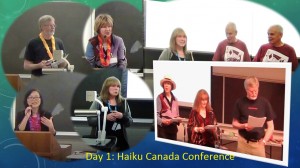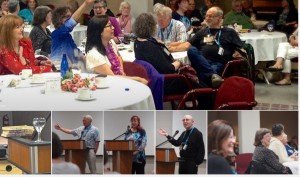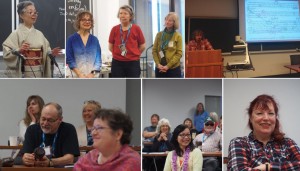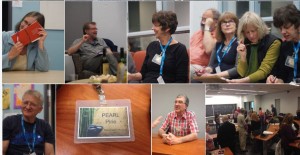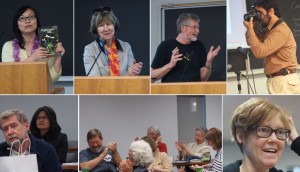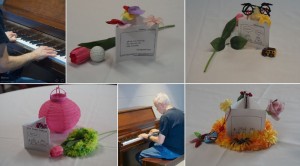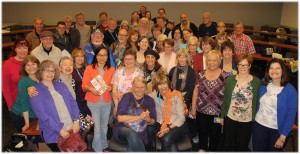 friends because of their mutual passion. They were glad to welcome new haiku lovers and support Anna Yin, first-time attendee and host.
To open the night, Anna showed a special short film about Mississauga which she had prepared to welcome guests to the city. She also invited them to explore the city and write about it during their visit. Next, co-host Nick Avis, a prominent poet from Newfoundland stirred up a thoughtful and dynamic discussion with his presentation: "What is Haiku?" The following member anthology: "Wordless: Haiku Canada 40 Years of Haiku" round robin reading illustrated the beauty of the art of haiku. Jacquie Pearce's "The Vancouver Haiku Group in Dr. Sun Yat-sen Garden" presented how photo of garden worked with three-line poetry. Later the same night, a Renku party lit up a sleepless night.
The next day, exciting activities continued. These included "anonymous workshops" by nick avis and Terry Ann Carter where heated debates about how and what to edit were engaged in. "Memories of Haiku Canada" by Emiko Miashita of Japan resonated with many member's recollections. Then individual book launches brought rich cultural heritage and various styles to the meeting.  The banquet for the 40th Haiku Canada birthday party was a great success and filled with shared anecdotes that brought many tears and laughter!
The weekend ended with a book launch of "Erotic Haiku of Skin on Skin" anthology published by Black Moss Press and other dynamic enjoyable activities. After affectionate goodbyes, many poets expressed the desire to attend next year's conference at Quebec Bishops university.
Photos by Pearl Pirie and more can be viewed (a link of photos). The group photo by Eudoro Unitec. Thank Lynne Jambor for the beautiful name tags, Jessica Tremblay for Old Pond Comic book and many people for your help and support. Looking forward to seeing you again.
You can listento to Pearl Pirie's The radio show episode on Haiku Canada Conference