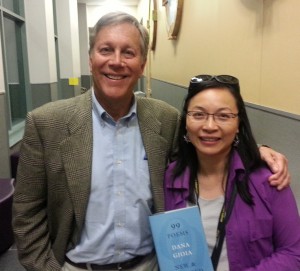 Dana Gioia is an internationally acclaimed and award-winning poet. Former Chairman of the National Endowment for the Arts, Gioia received a B.A. and a M.B.A. from Stanford University and an M.A. in Comparative Literature from Harvard University. Gioia currently serves as the Poet Laureate of California.
I was very grateful for a scholarship to attend
the 2016 West Chester Poetry Conference
and met Sir Andrew Motion, Dana Gioia and many other fine poets. I was touched by Dana's poems that he wrote for his first son who died very young. Here is one of them. With Dana's permission, I translated three of his poems.
Prayer
Echo of the clocktower, footstep
in the alleyway, sweep
of the wind sifting the leaves.
Jeweller of the spiderweb, connoisseur
of autumn's opulence, blade of lightning
harvesting the sky.
Keeper of the small gate, choreographer
of entrances and exits, midnight
whisper travelling the wires.
Seducer, healer, deity or thief,
I will see you soon enough—
in the shadow of the rainfall,
in the brief violet darkening a sunset—
but until then I pray watch over him
as a mountain guards its covert ore
and the harsh falcon its flightless young.
(The Wartburg Choir, "Prayer" by Morten Lauridsen, poem by Dana Gioia)
Check Anna's translations in upcoming book "Mirrors and Windows" (Guernica Editions 2021)
Watch California's Poet Laureate Dana Gioia in Conversation with Kay Ryan