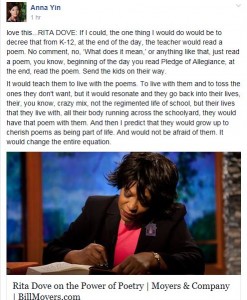 Bill welcomes former U.S. Poet Laureate Rita Dove… and they explore American history, language, culture, and ideas. They also talk about the responsibility – and controversy …
What a great interview! Please watch!
I am so happy about what Rita Dove replied when BILL MOYERS asked: If you were in charge of education today, all education, you were the czar of education, what would you — how would you want children to learn? How would you want them to be taught?    Watch the video clip to find out.