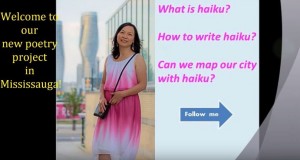 Please join us for Haiku Walking Tour/Postcard Poems in Mississauga to write haiku about Mississauga and leave a mark in our city for our future poetry map.
September 19, 2015 — Mississauga Celebration Square
Haiku Walking Tour and Postcard Poetry, MAC Arts Festival
Stop by the Culture Division booth and try your hand at writing Haiku/Postcard Poetry. Poet Laureate, Anna Yin, will lead a free drop-in workshop and walking tour around the venue on Haiku/ Postcard Poetry and then participants will have the opportunity to create their own Haiku poems on postcards at the booth. Meet at the Culture Division booth for workshops and tours at 1:00 PM, 3:00 PM and 5:00 PM.
Here is a short video clip to introduce the project. Here are 7 haiku in the video.