I was talking about how to write love poems on Daytime show (Valentine's Day special) at Rogers TV-Mississ​auga on Feb 14. My first segment starts at 6:20.  Click the picture below to go to Rogers TV to see the video clip.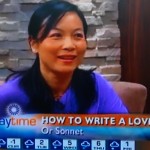 To read the verses here:  love sonnet (I read on TV)
I want to thank Producer Sonia Sache and her crew inviting me back to their Daytime show. Here is the show last year about my book "Wings Toward Sunlight" launch.
 My other Valentine's poems:  Valentine Love  
Valentine's Day/情人节 (inspired by Famous Blue Raincoat – Leonard Cohen)