To celebrate the new changes and Culture Days, there will be three major great events happen on next weekend (Oct 1, Oct 2). All come together in Mississauga Celebration Square. Many shows, many activities and a lot of fun.
http://www.mississauga.ca/file/COM/2011_culture_days_event_guide.pdf
Bookfest 
http://www.mississauga.ca/portal/residents/bookfest
I was invited at the bookfest with ten other local authors (Oct 1: 11:00am-4:00pm)
Bookfest and Culture Days Photos
Culture Days: Anna's Poetry ALive event will be at Cental Library (Oct 2: 2:00pm-4:00pm).
Meeting Rm CL3, 2nd floor
http://www.culturedays.ca/en/2011-activities/view/4d9bbca8-38d8-4351-a0cc-508a4c4a89be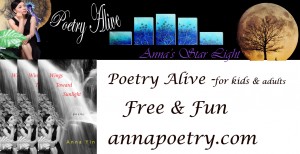 (On Oct 1, 11:00 to 4:00pm) I will be at Bookfest at the Local Authors' Lounge