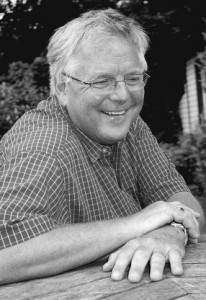 John B. Lee, Poet Laureate of the city of Brantford in perpetuity and Poet Laureate of Norfolk County for Life is the author of over one hundred books. His work has appeared internationally in over five hundred publications and he is the recipient of over one hundred prestigious international awards for his writing. His most recent books include The Full Measure, (Black Moss Press, 2015); Adoration of the Unnecessary, (Beret Days Books, 2016); The Secret Second Language of the Heart, (Sanbun Publishing, 2016) and The Widow's Land: superstition and farming–a madness of Daughters (Black Moss press, 2016). He lives in a lake house overlooking Long Point Bay in Port Dover where he works as a full-time author.
Being Human
I am reading Rumi
reading Tu Fu
and thinking of being human
last summer
Marty and I
slept in the farmhouse loft
under French heaven near Vitteaux
and we lay in our separate cots
like boys at camp
laughing, talking silly
making fun of everyone
we were mostly ourselves, middle aged men
with the window open
to starlight
and the evening breath of the fields
look up at the slant of ceiling
the slant of beams
this room was built
for dreaming
and we were giddy as lads
with happy lives, not
old Tu Fu, his sadness settled
like shadows, like rivers
like cold stones of winter
and the bitter darkness of long nights
and the lonesome insomnia
of small hours
like the mystical beauty of death and dying
and the inescapable anger of the soul
our hearts refusing the silence
with a lovely slowing exhalation
as we each become
more pensive in
the loosening limbs of slumber
relaxing our hands like unfurled leaves
and pressing our faces to linen
meanwhile great rivers of the earth
the Tigres and Euphrates
the Yangtse
the Amazon of my father's last days
flow on
and what would I buy
from the famous floating markets of Bangkok
I would purchase the rains of remember
I would purchase the stars of recall
and what to preserve in a poem
but the drenching of darkness with light. .
John.B.Lee 's Poem
做人
译者: 星子(Anna Yin)
读着鲁米,
读着杜甫, 思想起伏。
去年夏天,
马田和我
睡在农家阁楼,
在离法国维多不远的天堂下,
我们象野营的男孩一样,
躺在各自的行军床上,
傻笑,瞎说,
拿每个人逗乐。
活得更像我们自己,中年男人,
窗户敞开着,
星光和田野的清新空气弥漫。
仰望斜斜的天花顶,
斜斜的木梁,
这个房间象为梦境而设,
而我们是那不谙世的少年,
乐颠颠的。
不象老杜,
他的悲伤潜伏着挥洒不去
如阴影, 如河流,
如寒冬冰冷的岩石,
如漫长而苦涩的黑夜,
失眠孤寂;
以及那些神秘莫测的死亡
灵肉里不可解脱的愤怒。
我们的心
拒绝沉默,
而呼吸趋缓,
当我们更熟思于
平稳的睡眠中,
手象叶子舒展,脸紧贴着床单。。。
与此同时,
尘世上的河流,
底格里斯河、幼发拉底河
扬子江,
亚马逊河随着我们祖先们最后的日子
流逝着。。。
在曼谷的水上市场
我能买到什么
我愿购买如雨的记忆,
我愿购买如星的回想,
而诗歌能保留什么,
那些湿透的黑暗中的光亮。
Great Wall : http://www.chinadaily.com.cn/language_tips/2007-04/19/content_854588.htm
长城 http://www.chinadaily.com.cn/language_tips/2007-02/07/content_803210.htm
情人节 http://www.chinadaily.com.cn/language_tips/2007-02/09/content_805742.htm
The Farewell Symphony
The autumn sky is blue and clear,
Out in wild fields reeds stretch.
Birdcalls fade in thin branches,
Rivers silently gather fallen leaves.
Shadows grow taller;
Hills mute in their shattered hues.
Winds spiral in deep valleys,
whose home , candles still beckon?
Soon snow will blank et everything below;
wild geese glance back and take off.
Their raucous echoes fall,
then drown and drown
pale in ebbs.
中文朗诵,请听
http://www.coviews.com/viewtopic.php?p=157339#157339
告别交响曲
——听海顿故事和他的同名交响曲有感
告别交响曲
——听海顿故事和他的同名交响曲有感
秋季的天空明朗浅蓝,
芦苇野旷里高高地挺立。
而鸟声渐弱, 树枝稀疏,
河流默然承接着叶落。
远处的影子更深更长,
散碎的色调中,山川无声无息。
深谷里,风不断地盘旋 ,
谁家的烛光还在远远召唤?
雪不久会覆盖地面的一切,
大雁回望中开始飞行。
它们嘈杂的叫声落下,
淹没,退潮中一片苍白。
创作灵感
这首诗歌是我根据奥地利作曲家海顿的同名曲《告别交响曲》而作。
海顿作这首乐曲时有个真实的故事。当时海顿以及其他乐团友随王子每个夏季到夏宫演奏, 但他们的家人不能一起同去,只有等到秋天王子回来时,他们才能与家人团聚。所以当某一个秋天到来,王子还不想离去,乐队团友着急回家, 所以请团长海顿想办法.
喜欢幽默的海顿写了这曲《告别交响曲》的演奏过程通过音乐节奏的变化和器乐的一个个离场,来提醒王子,该回去了……
我听了这个故事和乐曲, 想到自然的一些变化, 秋退冬来, 叶落鸟飞等肃穆景象…… 以此来比拟和反映自然界的"告别交响曲"。