To 2017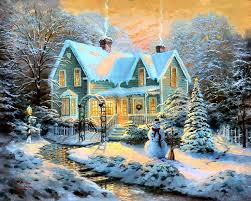 For what should I thank you?
The last week of the year,
snow brings this dreamy white Christmas.
Trees in my front and back yard
bloom with white flowers, how pretty!
I open the door, yet hesitate to step outside,
feeling the chill, I return inside.
By the closed window,
with a book and a cup of tea,
I watch and admire this white world.
Days fly by. Soon I
need to remove this page,
and hang up a new year.
I recall all those days gathered in my heart,
from the very beginning
letting go of all celebrity
to walking in the winds,
from the mirage to storms on the journey…
What adventures have 2017 brought!
On the night ladder, yet I still plant roses,
search for stars, and fly with dandelions' dreams.
Some tours are doomed to return,
Some doors are destined to open then to close.
Like snow, chances fall, but melt too.
And for those who are enchanted
by this white Christmas,
how happy and grateful they must be!
Maybe this poem is just another
snowflake floating by your window,
but maybe life will fill
with such sparkling moments.
(I also wrote it in Chinese)
致2017
我拿什么谢你?
最后的一个星期,
雪把前院后院
装饰成白色圣诞,
丛丛树木都开出璀璨的花。
站在门口,我却步于寒意,
退回室内,
一本书,一张桌,
一杯茶,我就这样隔着窗品味。
日子是飞逝的,
撕下这一张,就该挂上新的。
那些堆积在心中的,从一开始的
卸下桂冠到风中裸奔,
再到海市蜃楼和风暴起伏的旅程,
2017带来多少变迁?
在夜的天梯上,我却依然播种玫瑰,
找寻满天星,并与蒲公英的梦想飞行。
有些旅程注定要回到起点,
有些门窗注定要打开再关上,
就像雪,注定要下,也要融化。
而沉浸在这个美丽冻人的白色圣诞里的人啊,
还是如此欣喜,如此感恩。。。
愿我这首小诗像雪花
一样飘在你的窗边,
"我思,故我在"
也许人生就是这样
很多个美丽的瞬间。