It is not just as potted plants, that show their beauty by windows or on a balcony.
It is not waves that goldfish stir in the water tank or any artificial pond.
It is the voices of three teenagers that told me how poetry saved their lives
– one from Oakville, one from North York, one from Mississauga.
It is the smiles at workshops where students find doors to their inner world and strength in their writing.
 
It is not just pretty reflections from shiny mirrors nor long-stem roses in vases.
It is not whispers on summer nights nor cracking sounds from frozen rivers.
It is the humming by the bedside when children echo lullabies from Mother Goose.
It is the joy of seniors in their late years when they forget much, but remember favorite lines.
 
It is not just snowflakes swirling in crystal balls nor Still Life framed in living rooms.
It is not fake applause for dictators nor dialogues muted by pointed guns.
It is the broken bones reconnected; it is the sailboats steering through storms.
It is the courage, the energy and the truth that youthful Spoken Word poets carry and deliver.
It is the faith, the passion and the persistence that from the very beginning poet after poet has pursued while others doubt.
It is the peace, the purity and the depth that in our material world are lost
but we here together are striving to rediscover.
 
It is these truths why cities and people call for poetry to be and believe in.
It is these truths that form the road connecting us to celebrate World Poetry Day and National Poetry Month.
It is these truths that speak and praise the Power of Poetry!
It is the Power of Poetry!
————————————————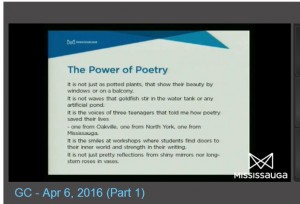 This is the poem I read at the city council meeting on April 6.  Check 
video on Mississauga's site
(April 6) (Thanks
Lovingsister Online Toronto News for Chinese communities
, 谢谢贴心姐妹网发表)         So glad to receive many positive comments for this poem, here is one from Chris Faiers:   Hi Anna,
This is an excellent 'public' poem, an 'official' poem in your role as Mississ. poet laureate! It's good the way you relate to young people and beginning poets in this poem. So many in our society don't understand the power of poetry, but dictators and fascists most certainly do, which is why poets are always the first ones they banish, jail or shoot. Congrats!
peace & poetry power!
Chris