Joh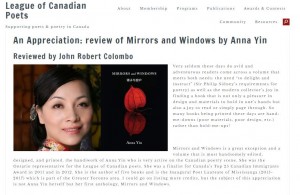 n Robert Colombo, one of the founders of the League of Canadian Poets, is known as "the Master Gatherer" for his compilations of works of Canadiana, including volumes devoted to Canadian songs, poems, myths, and legends.
Thanks John and thank the League of Canadian Poets posting the review.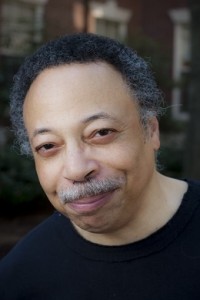 My friends–and comrade poets/translators:
Anna Yin's editorship of Mirrors and Windows (just published), an INTERNATIONAL anthology of poems that she has translated from English into Chinese and from Chinese into English is a landmark–an exquisitely rendered, intellectual/artistic touchstone–for the continued conversation between English (Canadian) poets and those of China that she has been singlehandedly enhancing (on the Canadian side) for at least a decade now.
Anna's Poundian contribution to our mutual enrichment is graced spectacularly by poet-publisher Michael Mirolla of Guernica Editions, who not only agreed to publish this significant volume, but has graced it with a memorably elegant, yet plain cover–like the moon-over-water that so besotted Li Po. Once again, Guernica has served notice that it is an international heavy-hitter.