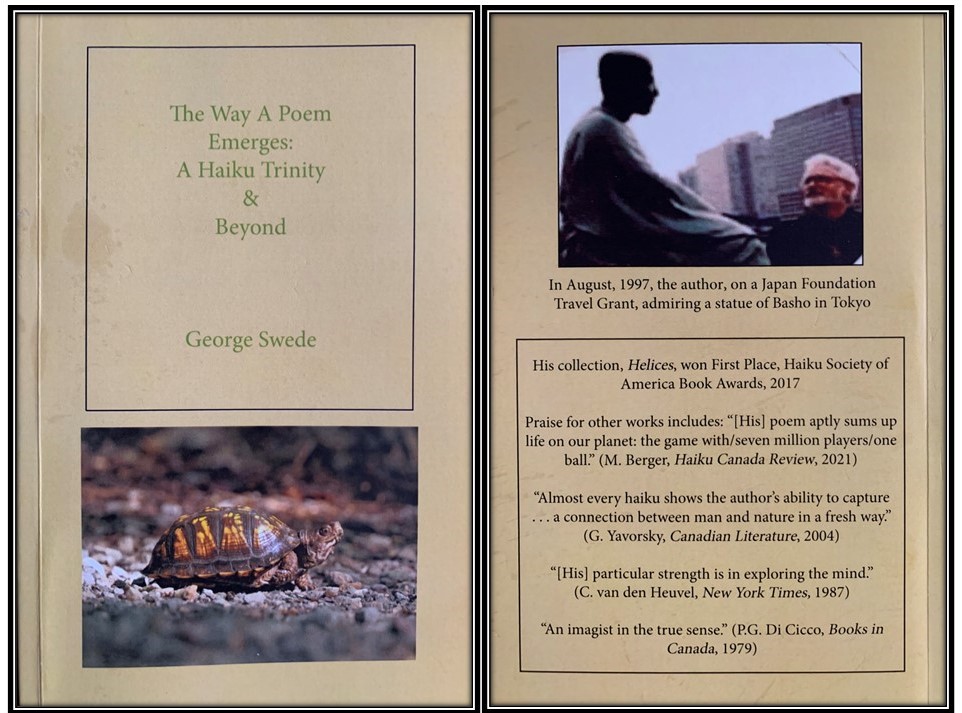 Reviewer: Anna Yin
Author: George Swede
Lett Press, 2022, pages: 83
This review will be published in Verse Afire Jan. 2023
In 2016, I was asked to review George Swede's book "Helices", a combination of haiku, tanka and haibun. I enjoyed his work and it didn't take me much time to weigh in with my thoughts and deliver my evaluation. Soon after, the book won the America Merit Book Award 2017 (First Place) for Best Book of Haiku. So, when Bunny Iskov asked me to review Mr. Swede's recent book, I immediately agreed. My intuition was right for I received another well-crafted book by Mr. Swede: "The Way A Poem Emerges: A Haiku Trinity & Beyond"; naturally, his opening haiku leads the way into a wonder land:
creekside turtle
the way a poem emerges
from its shell
In Japanese, Chinese and Indigenous cultures, the turtle is sacred. Its shell has many merits. Most of all, it indicates important messages and tells stories. Similarly, good poems convey significant messages and meanings no matter how short they are.
Haiku has been considered to be short but significant, although its definition and practise have evolved over time. Today, many variations of haiku are spreading all around the world. In his foreword, Mr. Swede queries us about the reason for the indecision about whether a poem is a haiku or a senryu. He continues by providing us with his exploration of new definitions which focus on objective criteria: a three-part typology based on content. Accordingly, this book is divided into four sections, here, I select a few examples from each section:
Section One, nature haiku (includes only images from the natural world):
free of clouds
the moon now among
chunks of river ice
Section Two, human haiku (deals with human concerns/artifacts):
the narrow road narrows morphine pump
*
IV drips…
the time we ran
out of gas
*
death bed
the alarm's
rechargeable battery
Section Three, a combination of both the natural and human worlds:
identity crisis birdwatching
*
mental health
gazing at trees and sky
in the glass table
*
a sword-waving
stone horseman — leaves falling
all around
Section Four, beyond (others):
what's left of the storm in the closed notebook
*
in time's cupboard cans of different weather
*
crowded elevator
i breathe thru
my gills
Overall, I see in each haiku Mr. Swede carefully selects words to lay out different images/events no matter whether these images belong to nature or humans; each approach is different, yet also similar with objective descriptions of the here and now that offer readers a new, deeper, recognition of our relationship with nature and ourselves. I admire his skillful marriage of his writing with the moments he observes in nature and life; thus, he truthfully presents us the haiku art— light in form yet wise in meaning.
Mr. Swede shows us the way a poem emerges, and seamlessly answers the question of when a short poem becomes a haiku, as we see his work tests the limits of brevity and meaning, but most of all, the parallel universal ways of living in each moment, no matter how trivial they are.