P.K. Page to be celebrated ( Mississauga News) 
Date: Sunday, Dec 4, 2011 Time: 2:00pm – 4:00pm
Place: Courtneypark Branch/ Mississauga Library.
730 Courtneypark Dr. W. Mississauga, ON L5W 1L9
 Details is also included in P.K.Page Poetry event Poster    (Parking is free in the school parking lots for Sunday.)
Here are some highlight on our featured poets and local poets who will read at the event for the trust fund established by the League of Canadian Poets.  For more, please check at the event on Dec 4.

Terry Barker will read I.B. Iskov's In Memory of P.K. Page
Admission: Free,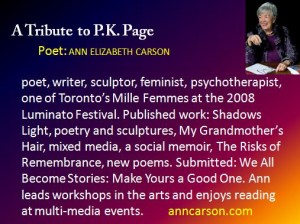 but Donations welcomed and will go to the trust fund.
We will have prizes draw at the end, thank Mosaic Press for their donation.
Here is the link for "Single Traveller" in Chinese translated by Anna Yin and the poem "Purple and Gold" for Page. 
More to check: 
—–the newsletter for the P.K.Page Trust Fund  (Oct 2011)—
The League of Canadian Poets announces the PK Page Trust Fund in support of poets and poetry in Canada. A series of benefit readings will honour her and initiate the fund. 
"PK was one of our own and we want to remember her," says League President Susan McMaster. "She was a great poet and a great mentor. We hope this new fund will grow into a large endowment that allows the League to support the art and craft of poetry in a number of ways that would have pleased her." 
Born in 1916, PK Page's artistic and poetic career spanned more than five decades, ending only with her death in 2010. She was made a Life Member of the League in 1987. At its 2010 Poetry Festival, she and her work were honoured by then president DC Reid. 
"PK meant a great deal to me personally, for her connection across poetic generations and with English poetry, for her patrician ways and her bright, agile mind. Her book of glosas, Hologram, and her encouragement resulted in an outpouring of this Spanish form from Canadian poets, firmly establishing a new stream in Canadian formalist poetry."  In 2000, PK, as she was known to her friends, was granted a special honour when the United Nations chose her glosa "Planet Earth" for its Dialogue Among Civilizations Through Poetry reading series. The poem — which was the one for which she wanted to be remembered — was read at locations around the globe considered 'international ground,' including the United Nations, Mount Everest and Antarctica. It is the United Nations poem of the planet Earth. 
Starting this fall, poets from BC to PEI will give of their time and voice to honour Page's memory in readings offered to the Canadian public. "All poets involved have agreed to donate their fees so that we may initiate this fund."
The League's bank, Toronto Dominion, has a private giving foundation structure which allows not-for-profit societies like The League to develop, over time, endowments they otherwise could not afford to set up as federally required.  "The buy-in investment is $10,000," McMaster notes. PK Page's family made the first donation, followed by gifts from League members such as Roger Nash and dollar for dollar matching contributions by Reid towards the buy-in goal. "We are getting this fund off the ground today."
The League of Canadian Poets is the senior, national organization representing the interests of poets and poetry in Canada. Contact: Ms. Joanna Poblocka, ED LCP, or Susan McMaster, President