Wake up surprised
by my nudity.
Fish is a symbol for sex,
a specialist explains;
she offers a miserable look.
Distressed, I remember
removing all belongings
before bed.
Lying beside my lover,
quiet and gleaming,
my lover is a river.
Yet in my dreams,
there is only one fish,
no river, no water.
我常梦见鱼

醒来却惊异
自己的赤裸。
鱼是性的一种象征,
专家如是说;
神色中透着些古怪。
犹疑不安着,我记得
睡前卸下了所有行装。
躺在爱人的身旁,
宁静并熠熠闪光,
我的爱人是月下的河床。
只是,在我的梦里,
没有河流,也没有水。
只有一尾发光的鱼。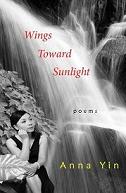 *this poem in English was published in "Wings Toward Sunlight" (Mosaic Press 2011), "Wings Toward Sunlight" 2014 in its second printing.  Thank our readers and poetry lovers for all their support!