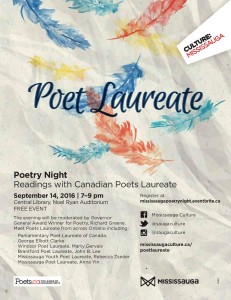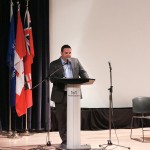 The following are our featured poets' biographies.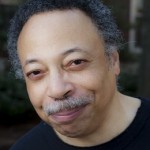 George Elliott Clarke: The 4th Poet Laureate of Toronto (2012-15) and the 7th Poet Laureate of Canada (2016-17), George has published 15 revered poetry works, including Whylah Falls (1990), Execution Poems (2001), Blues and Bliss: Selected Poems (2009), and Lasso the WInd: Aurelia's Poems and Other Verses (2013). His latest book is Gold (2015).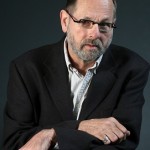 Marty Gervais is a poet, award-winning journalist, professor and Publisher of one of the oldest Canadian literary presses. He is also poet laureate for Windsor and the author of the Canadian bestseller The Rumrunners.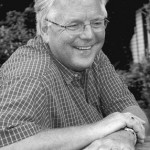 John B. Lee, Poet Laureate of the city of Brantford in perpetuity and Poet Laureate of Norfolk County for Life is the author of over one hundred books.  His work has appeared internationally in over five hundred publications and he is the recipient of over one hundred prestigious international awards for his writing.  His most recent books include The Full Measure, (Black Moss Press, 2015); Adoration of the Unnecessary, (Beret Days Books, 2016); The Secret Second Language of the Heart, (Sanbun Publishing, 2016) and The Widow's Land: superstition and farming–a madness of Daughters (Black Moss press, 2016).  He lives in a lake house overlooking Long Point Bay in Port Dover where he works as a full-time author.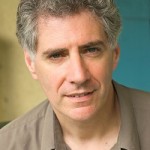 Richard Greene has received the Governor General's Literary Award and the National Magazine Award (Gold), both for poetry. His most recent collection is Dante's House published in 2013. His book Graham Greene: A Life in Letters (2007) was widely praised in the international press, as was his biography of the British poet Edith Sitwell (2011). He is now writing an authorized biography of the novelist Graham Greene. He is director of the MA in the Field of Creative Writing at the University of Toronto.