Come and dance with me under lemon trees,
On the beach by the Caribbean Sea,
Come to savor the damp exotic breeze
And taste sweet lilies like a honeybee.
The moonlight pours from its shimmering urn.
The rising wave splashes us with delight.
In and out, our steps may stray then return,
refusing to take love as fleeting light.
When the soft sands slip through our feet like fish,
and hum a melody from a shell's dream,
Oh, love, you shall listen to my heart's wish
as if the far waterfall joins the stream.
Tides set out and set off-I offer this
For this love to tie us as one in bliss.
(This poem is in my new poetry collection "Inhaling the Silence" published by Mosaic Press in 2013)
(I was invited to talk about how to write a love sonnet on a TV show in Feb, 2012, so I wrote the poem: Come and Dance )
Thanks JR, Terry and PenShell poets for their feedbacks.  I revised my original draft (the one in the photo) many times to settle down the above lines..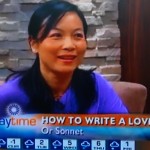 because Talent Vision TV would like to report part of the poem that read at the poetry event, they asked me to translate it. So here it is. 粗粗翻译了下。。。
快快来和我一起在柠檬树下畅舞,
在这欢快明亮的加勒比海的海滩,
快来品尝这潮湿异国情调的微风
品味甜美的百合犹如忙碌的蜜蜂。
从闪闪发光的瓷瓶月光尽情倾泻,
层层叠叠的浪花嬉戏我们的喜悦。
进或退,我们舞步有偏离然后返回,
拒绝接受爱如白驹飞驰去如流星。
当柔软细沙如鱼穿越我们的脚间,
犹如吟唱自贝壳梦境的一段旋律,
哦,爱人,请你聆听我心深处的愿望
犹如遥远的瀑布迎接潺潺的细流。
潮起潮又落,我心甘情愿地奉献
这份爱来连接我们一体在幸福中。