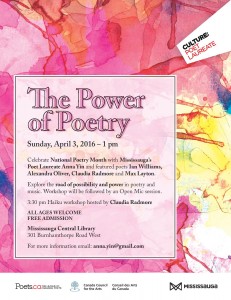 Join us to celebrate National Poetry Month with featured poets Ian Williams, Alexandra Oliver, Claudia RadMore, Max Layton and Anna Yin. In poetry and music, together we will explore the road of possibility and power. MC: Brent Wood.
Open Mic following (all ages are welcome)
A haiku workshop led by Claudia RadMore (Ottawa based poet) starting at 3:30pm will be a special treat for all ages to discover the fun of reading/writing haiku and making your own haiku book.
Date: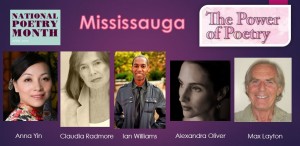 April 3, Sunday 1-5:00 pm, free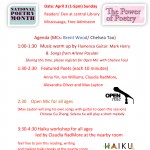 admission.
Place: Mississauga Central Library 301 Burnhamthorpe Rd W
……………….Yes. the Canadian Parliamentary Poet Laureate George Elliott Clarke will join us.

(Thanks our city Mississauga and the League of Canadian Poets for funding this. Thanks our communities for supporting us for many years. )