We had Mississauga's National Poetry Month event in Mississauga at Courtneypark Library on the night of April 26.  Poets from the LCP, CFP, TOPS and other groups shared their poetry, performance and books/CDs.  There were tables for book display and sales.
Poets on reading list:  Norman Cristofoli, Cheryl Antao-Xavier, Anna Yin, Max Layton,  Dina Ripsman Eylon, Patrick Connors, Zohra Zoberi, Saskia Van Tetering, Trevor Trower, Terry Barker, Pratap Reddy, Mary Ellen Koroscil ,D.S. Martin and Susan Munro… (Michelle Zeng, Stooie lil )
Date Friday, April 26, 2013 Time: 6:30pm – 9:00pm/ Courtneypark Library Mississauga)
Max Layton and Mark Harry played their music and songs.
We have Limelight (Mississauga Youth Poets): Stooie lil performed his spoken words poetry.
A young (13 old) poet:Michelle Zeng shared her two poems. Other 15 poets did their readings… till the last minute.
What a full session.
Here are some poets' information.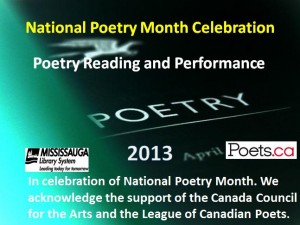 News Reporting:
 Poets unite at Courtneypark Library (reported by Mississauga News) 
Poetry in spotlight this month on Mississauga News
 Talent Vision TV came to report our event this year again!!!
Here are  photos and videos.
For 2012 Mississauga National Poetry Month event highlight/ (Videos/Photos),we thank all the readers and audience.
We also thank  Talent Vision TV , SNAP reporter Mississauga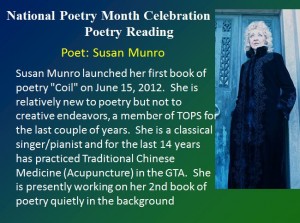 Newspaper…